EZ-PillCup
Trouble Swallowing Pills?
EZ-PillCup by Oralflo™ IS THE SOLUTION!
EZ-PillCup by Oralflo™ is the first and only product to effectively address the problem of pill swallowing.

At last, the revolutionary and patented EZ-PillCup by Oralflo™ Technologies, LLC is available to everyone and suitable for adults and children ages 4 and above. It has come to the aid of millions of people who otherwise would continue to choke, gag, and suffer trying to take medication.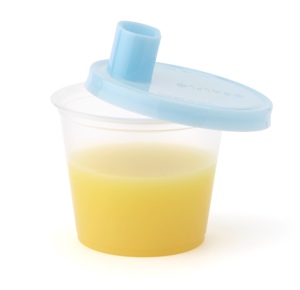 EZ-PillCup by Oralflo™ is a revolutionary new medical device that helps doctors, nurses, hospitals, speech pathologists, children, parents, seniors and caregivers administer medication in pill form. The EZ-PillCup by Oralflo™ allows the user to simply drink any size pill safely and naturally, eliminating the need to place a dry pill in your mouth thus eliminating pill taking anxiety. The unique design of the spout ensures that the water and the pill mix together in your mouth, so that when the swallow reflex takes over, you can ingest the pill easily. Depending on the pill size, you may not notice the pill at all.
This patented device is the property of Oralflo™ Technologies, LLC in Bridgewater, New Jersey, and is registered as a Class 1 Medical Device with the FDA. This product is only available from Oralflo™ Technologies, LLC.
Read More About The Oralflo™ Pill Swallowing Cup
.
Oralflo Awards

2014 Oralflo Technologies